Build Better Smart Homes and Improve Sales with Crestron's Design Build Program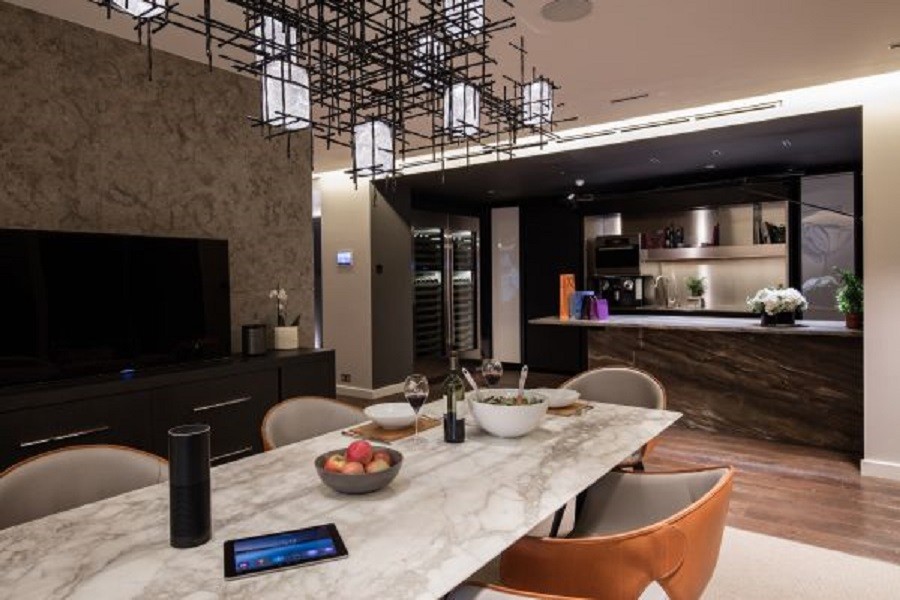 Enhance Your Client's Home Living and Your Bottom Line
Homeownership is seeing unprecedented demand as people seek to have more space, safety, and luxury. Upscale buyers are looking for more than finely appointed interiors; they want the accommodations and convenience modern technology offers.
New homeowners are looking to make their house complete with stunning music, comprehensive security, superior video, motorized shades and more. The effortless control, reliability and network savviness make smart home automation easy to provide standardized features personalized to every homeowner's needs and desires.
Having an innate understanding of the intimate relationship between architects, designers, builders, lighting designers, electrical engineers, and AV integrators, Crestron home automation has created the Design Build Professional Program (DBP). Built to help you learn more about the technology – and to make more profits.
Are you ready to add the premier name in home automation services to your offerings in the Houston, TX area? Find out how you and your buyers both benefit.
See Also: Spring into Outdoor Fun with An Upgraded Audio System
Home Sales Tied to Technology
The upswing in demand for homes is connected to the impact of recent events and millennials finally jumping into the market. Homes with intelligent connectivity and automation are no longer a niche market. Today's buyers see integrated tech in the same light as electrical and plumbing- essential standards.
Concrete evidence of the demand for homes with Crestron-like systems comes from business research showing a remarkable five-fold increase in smart device implementation from 2017 to 2019. A global tech survey predicts smart home revenue to increase by 21% to over 100 billion over the next few years.
What Your Clients Want
Home Automation provides simplicity, savings, and security as well as cutting-edge delivery of entertainment. The Crestron Home platform delivers the ability to control thousands of partner devices and a complete line of control interfaces and media transport. The system incorporates flexibility, personalization, and voice control, all on a standard wired or wireless network topology.
Using the Crestron DM (Digital Media) unmatched power, you can deliver whole home audio in HD formats such as MQA (Master Quality Authenticated) from any curated content or the leading streaming platform. Distribute incredible 4K (and beyond) video to any or all rooms of the home. Set the perfect temperature and humidity or implement circadian-based lighting to improve the wellbeing of the house and the people who live in it.
A smart home can also benefit the homeowner with better insurance rates and faster claims resolution. Detection of water leaks, air quality, remote access doors, and connection to local and national alerts provide insurance companies more assurance.
The Benefits of Crestron DBP
The Crestron Design Build Program enables home building professionals to access information, training, and support with our certified dealers. With DBP membership, the world of Crestron solutions opens up to you and your clients.
Profiting in the home automation market requires knowledge, access, and reliable relationships. The quick sign-up enables access to the CEU accredited courses, invitations to exclusive Crestron events, state-of-the-art design tools, referral incentives, and personal product discounts.
In addition, the program furnishes you with the ability to get you and your clients in front of the technology. With preferred access status to the Crestron Design Showrooms worldwide, the certified sales team guides you through solution options, upsell opportunities, and hands-on time with the products in operation.
Working with Titan Technology
At Titan Technology, we understand that trust is something that is earned. Our home automation and Crestron systems experts will partner with you to deliver the ultimate in luxury and convenience.
To find out more about how we can work together, call us at (713) 300-0685 or fill out the contact form on our home page. Don't forget to sign up for our newsletter for the latest on smart technology ideas and innovations!
Related Posts
By accepting you will be accessing a service provided by a third-party external to https://titantechnology.tv/